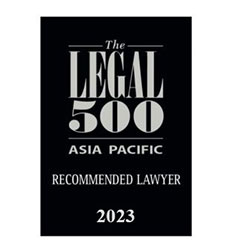 William is an Indonesian-qualified attorney. Following a focus on corporate mergers and acquisition and commercial litigation with Hadiputranto, Hadinoto & Partners (the Indonesian member firm of Baker & McKenzie), William next served as the Head of Legal in Suryani, Suyanto and Associates ("SSA") in 2016.
William has an undisputed track record in the Indonesian financial services space. He has advised and represented companies engaged in e-money, e-wallet, online payment, remittance, and credit-scoring, among others. William has assisted numerous clients on the acquisition, structuring, registration and licensing of dozens of peer-to-peer (P2P) lending companies, and also conducted acquisition and licensing of various multi-finance companies, general and/or life insurance companies, broker-securities and/or underwriter companies, and/or asset management companies.
Being a protégé of Susy Suryani Suyanto, one of the leading tax consultants in Indonesia, William has worked on various corporate tax advisory works and tax dispute matters. William has led a team of tax practitioners known for their expertise in designing tax-efficient structures for various transactions including mergers, acquisitions, and joint ventures. William and his team also provide clients with tax planning and assistance in tax audits and disputes. William and his team always strive to provide innovative and practical solutions to clients. William has been entrusted by numerous major multinational clients and international law firms abroad in various tax matters.
He was named by the Legal 500 Asia Pacific 2023 as a recommended lawyer in Corporate and M&A.
William earned a Bachelor of Laws degree from the University of Indonesia and a Bachelor of Science in Economics from Santa Clara University. William speaks proficient Chinese Mandarin, English, and Indonesian languages.
Education:
University of Indonesia, Bachelor of Laws
Santa Clara University, Bachelor of Science in Economics
Language:
Chinese Mandarin
English
Indonesian
Professional Qualifications:
Indonesian Advocate (PERADI)
Award:
Corporate and M&A Recommended Lawyer (2023) by the Legal 500 Asia Pacific (Legalease)